Add a Touch of Lime to your Bathroom – Add a Little or Add a Lot
Do you like lime green? Fancy a lime green bathroom? Well here are some great suggestions on how to create a lime green bathroom. Remember that 'lime green' means different things to different people so you can get a wide range of tones that all lie within a lime green spectrum. Try to stick to similar or close tones or go for complete contrast with one dark and one light.
If you are starting from scratch you just need to decide how much green you want to add. A little can go a long way so I suggest you paint the walls in a very light shade or even leave them a neutral cream or white and use the green as pure accents.
On show here I've included some shower curtains, rugs and towels and some cute bathroom accessories and wall decoration to get you inspired.
Lime Green Bathroom Decor You'll See Here…
 Ombre Shower Curtain

 Bathroom Rules

 Doodle Rug

 Vinyl Wall Graphic

Zadro Shower Bug FM Radio Model, Lime Green
These are just some of the items to be found on this page – from a fun shower radio to shower curtains, mats and rugs, bathroom accessories and towels.
Zadro Shower Bug FM Radio Model

Shower Curtains
A Very Lime Green Shower Curtain
How very lime – just the color of a lime you put in your gin and tonic! This refreshing color will brighten your bathroom. This shade could provide quite the focal point to your room so you won't need to add much else to make an impact – perhaps a wall clock or some towels or mat.
This shower curtain measure 72 inches by 72 inches so fits most standard showers. Made of 100% cotton the curtain is color-fast so you can wash it in the washing machine as and when it needs it and just hang it back up to dry.
More Shower Curtains in Lime
Of course, you can always use lime green to blend in with other colors. Check out these lime shower curtains for idea. Go for the complete lime green look or add in several different color then pick out the lime green in bathroom accessories. If you do that, the lime green in your curtain will leap out at you and become more obvious.
 72-Inch Shower Curtain

 70-inch Shower Curtain

 Tropical Beach Shower Curtain

 Hooty Owl Shower Curtain

Bath Rugs, Mats and Towels
Washable Nylon Bathroom 3-Piece Rug Set
Shaggy pile rugs are back in fashion and this is a great little 3 piece set that will set off a lime green theme.
In this bathroom set is a pedestal mat for around the toilet, a rug and a cover for the toilet seat. The color is bright and vibrant and the fabric color-fast and durable. Machine washable.
Garland Rug 3-Piece Jazz Shaggy Washable Nylon Bathroom Rug Set

Washable Nylon Bathroom 2-Piece Rug Set
There are a lot more rug styles available by clicking through the links.
Garland Rug 2-Piece Jazz Shaggy Washable Nylon Bathroom Rug Set

 Luxury Hand Towel

 100% Cotton Towel

 Bath Rug Rain Dot

 Poppy Rug

 Bath Towel Set

 Egyptian Cotton Towel

 Cotton Bathroom Towel

 Bath Towel Set

 Microfiber Bath Rug

Bathroom Accessories
InterDesign Spa Mono 11L Rectangular Can, Pear
No bathroom is complete without a waste basket for all those tissues and cotton wool balls. This is a little plastic number that will fit in well.
At only 7.1 x 11.2 x 12 inches – this is an ideal size for a bathroom and attractive enough that you won't mind it sitting in plain sight.
Renova Toilet Paper – Lime Green (3 Roll Gift Tube)
This is a funny touch. Who doesn't need lime green toilet paper?
Practical and fun accessories for the bathroom…
Renova Toilet Paper – Lime Green

Wall Decals
For quick, easy and cheap wall decor
Wall decals are very popular and they are a great way to get an instant change in decor without repainting and without costing lots of money. The decals are all made of vinyl so are ideal in a bathroom – they won't curl and peel off. Just take off the backing and stick them up where you want and if you don't like them there or want a change, just peel them off – they don't leave any marks.
 Wall Dot Stickers

 Vinyl Sticker Decals

 Vinyl Decal Circles

 Lime Green / Grey

 Sticker Dots Decal

 Daisy Flower Stickers

 Navy Blue / Lime

 Dance Rain

 Happy Tree Decal

 Live Laugh Love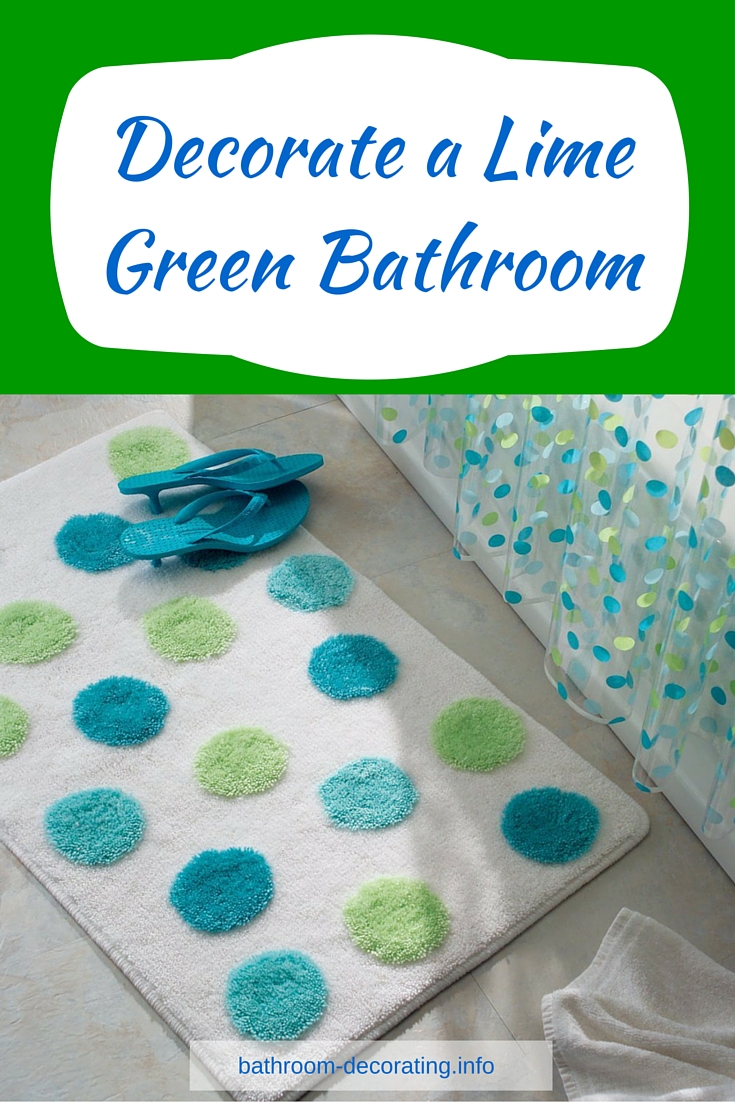 (Visited 1,428 times, 1 visits today)