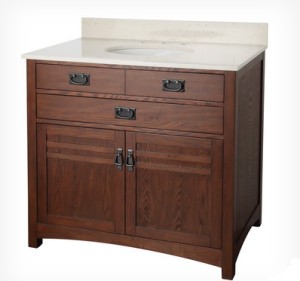 When it comes to choosing single vanities vs. double vanities, there are a few things to consider. First, decide how many sinks your household really needs. If two or more people share a bathroom and have to get ready at around the same time of day,a double vanity might work best. However, if you have a very small bathroom or limited space, a single vanity might be the best option. Make sure you know, before choosing either vanity option, how much space you can actually allow for a vanity. Storage is also an issue. Double vanities may offer more storage in the form of shelves and drawers. With either choice, there are a wide variety of options to consider in both single and double bathroom vanities, after you decide which choice is right for your home.
Single Bathroom Vanities
Wayfair offers a large selection of single vanities, ranging in styles that almost resemble a small dresser, to various sizes of wooden vanities, and even more contemporary looks such as wall mounted vessel options.
Cornell 37″ Single Bathroom Vanity Set

The Foremost Cornell 37″ Bathroom Vanity Set with Top is a fairly standard looking vanity, with doors that open underneath to hold cleaning supplies or towels and a pull out drawer for housing toothpaste, toothbrushes, and other personal care products. Features a china sink, cherry wood finish, and stone top. This style is what many people might consider to be a "traditional" style vanity.
Parchment 48″ Single Bathroom Vanity Set

The James Martin Furniture Parchment 48″ Single Bathroom Vanity Set offers a more ornate vanity cabinet, constructed of solid birch wood with a natural marble top. Features two doors and eight drawers for convenient storage. A traditional, bordering on vintage looking vanity.
Vetro 24″ Single Netto Modern Bathroom Vanity Set with Mirror

For a very modern, contemporary look, the Fresca Vetro Netto 24″ Modern Bathroom Vanity Set features clear tempered glass countertop sink and free stainless steel faucet. This vanity set includes a mirror. Perfect for an extremely tiny bathroom, but offers very limited storage space of a small circular shelf on which the sink bowl is set.
24″ Single Bathroom Vanity Set

Kokols Vessel Sink Vanity Set is a wall mounted option that takes up very little space. The only storage this unit offers is the small rectangular ledge, as well as a towel rack underneath the sink bowl. Constructed from shiny, black glass, with a chrome finish.
From the traditional "cabinet" style vanities, to the sleek modern styles, there is something to suit every taste and every space in the Wayfair single vanity collection. Single vanities are offered in various sizes, colors, styles, and price ranges to suit every budget.
Double Bathroom Vanity Options
If your bathroom is large enough to handle a double vanity, this can be a great way to provide extra storage, as well as manage such everyday tasks as getting the kids to brush their teeth before bedtime. Sometimes two sinks really are better than one!
61″ Double Bathroom Vanity Set

In keeping with a traditional vanity style, the 61″ Double Bathroom Vanity Set features weathered oak made from 100% solid timber and framed construction. The top and base are both included with this vanity set. This vanity also provides storage in the form of four doors and three small drawers.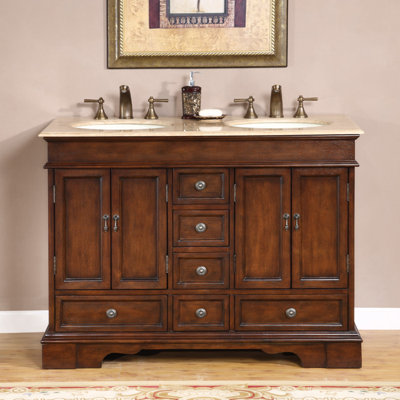 Bradford 48″ Double Bathroom Vanity Set

The Bradford 48″ Double Bathroom Vanity Set offers a terrific look that would be perfect for those with a country or vintage theme in their bathroom. This vanity set boasts of a stone top and is available in multiple finishes. It has a medium wood finish at its base. It features two undermount sinks with organized storage in the form of drawers for your personal care items such as hair products, lotions, brushes, combs, and more. The drain is placed directly under the faucet. This vanity set can transform your bathroom into a stylish oasis and is perfect for any bathroom remodel. This freestanding vanity set is the perfect example of quality, functionality, and durability. It brings an elegant and clean look to any bathroom. This is the perfect for a adult couple or even two children sharing a bathroom because it allows each person their own personal storage space.
Hanson 60″ Double Bathroom Vanity Set with Mirror

For the lover of contemporary looks, the Hanson 60″ Double Bathroom Vanity Set with Mirror offers a completely different look from the traditional bathroom vanities. A contemporary look, this model would look great in a modern bathroom. The Ariel Bath Hanson series offers beauty and elegance in a contemporary design for the modern home bathroom. The cabinets are solid wood and the doors and drawers are soft-closing. Furthermore, the satin nickel finish hardware and the two matching mirrors are included with this vanity set.
Derby 72″ Double Sink Bathroom Vanity Set

The Derby 72″ Double Sink Bathroom Vanity Set is constructed of 100% hardwood and not particle board. The marble countertop, ceramic sinks, and elegantly crafted doors and drawers all lend credence to the durability and superior craftsmanship that Water Creation is known for. With the understanding that no one space is alike, all of Water Creation's vanity designs come in multiple lengths to accommodate any room size.
All of these great styles and many more can be found in the double vanity section of Wayfair.
Which Is Better? Single Vanities Or Double Vanities
It all comes down to what works best for your home when it comes to choosing the right bathroom vanity. If multiple people require using a sink at the same time, and if your space can handle a double vanity, you will most likely be pleased with the decision of a double vanity. For smaller bathrooms or those that don't receive a lot of traffic, it might be wiser and less expensive to stick with a single vanity.
Featured: Mission Turnleg Double Bathroom Vanity Set
No matter what you decide, there is a wide selection of vanities available in various base widths, mounting types, base finishes, price ranges, styles, sink types, top materials, features, and sink materials. Also take into consideration how many drawers and/or doors the unit has for storage. Keep in mind that when doing updates and remodeling in the home, money spent on quality purchases in the kitchen and bathroom really pay off toward adding value to the home, making it a very worthwhile investment. With so many terrific styles and designs to choose from, you're sure to find exactly what you're looking for in either a single or double bathroom vanity.
(Visited 893 times, 1 visits today)